TabPad 1.51
Quick Description: (Read All)
A tabbed notepad with quick-key tool buttons for fast and easy note taking

Download - Size: 2.33 MB
Source: www.brucegraham.net
File Ping Time (less is better): 323 ms

Category:
Business
(Rank: 1,304 / 1,823):
Office Suites & Tools
(Rank: 140 / 202)
Downloads:
14 This Week (Rank: 12,008 / 15,688) / 5892 Total (Rank: 7,532 / 15,688)
Developer:
Bruce Graham
Software Home Page:
http://www.brucegraham.net/shareware/11/1/index.htm
License Type:
Shareware ($22.95)
Language:
English
Most Recent File Validation
(
?
): Tue, February 5th, 2008 8:39 PM CST
OS: Win95,Win98,WinME,WinNT 4.x,WinXP,Windows2000 - Install and Uninstall.




Full Description:
A tabbed notepad with quick-key tool buttons for fast and easy note taking. Organize notes into as many notepads as you need. Each notepad can contain up to 255 tabbed pages. Assign a hot key to recall each notepad. Print a page/notepad to the printer or generate the RTF text to open in a word processor, or export raw text (with bullets) to a CSV text file. Customize by changing tool button colors, changing document area color, hiding the menu, etc. TabPad's auto-save feature saves changes whenever focus is lost. Use TabPad to store notes, and lists, including research notes, project notes, to-do lists, trip check lists, ideas, goals, music to try, books to read, recipes, etc. Palm? handheld owners can use TabPad as a desktop companion for the build-in Memo Pad application.
Screenshot:
(Source: www.brucegraham.net - Ping: 405 ms - Size: 10 Kb (
?
)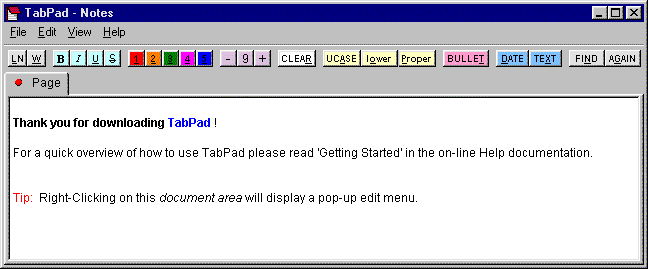 Keywords: text, editors, files, easy, software, desktop, palm, word, processors, font, formatting, multi-page, quick-keys, notebooks, note, books, editing, check, lists, colors, notes, documents, pads, notepads, bullets, tabpad

| | | |
| --- | --- | --- |
| Rank | Title - Business : Office Suites & Tools | Downloads |
| | PolyEdit ($27.95) - A very powerful general-purpose word processor. | 2125 |
| 2 | TextMaker for Pocket PCs ($49.95) - TextMaker: The Only Desktop-Class Word Processor for Your Pocket PC | 2094 |
| 3 | ClicheCleaner ($12.95) - Highlights passages in your text that are cliches, or common/repeated phrases. | 2059 |
| 4 | WordConvs ($69) - Convert documents from and to different formats using Microsoft Word converters | 1940 |
| 5 | Interactive Resume Builder ($15.95) - Resume with hyperlinks. HTML/Word/text/clipboard for web site/email/job boards | 1923 |