GCN 2.9.1
Category:
Internet
(Rank: 2,330 / 3,062):
Chat & Instant Messaging
(Rank: 114 / 139)
Downloads:
113 This Week (Rank: 11,395 / 15,688) / 5107 Total (Rank: 8,422 / 15,688)
Developer:
Global Communications Network, LLC.
Software Home Page:
http://www.gcn.cx/help.html
License Type:
Freeware ($0.00)
Language:
English,Spanish,French,German,Italian
Most Recent File Validation
(
?
): Mon, February 4th, 2008 5:23 PM CST
OS: Win95,Win98,WinME,WinNT 3.x,WinNT 4.x,WinXP,Windows2000 - Install and Uninstall.
System Requirements: Internet Explorer 4.0, High Encryption pack



Full Description:
With E-mail, Chat Rooms, Private Messages, Games, a Web Browser, Popup-blocker, Profiles, Message Boards, Desktop Sharing, Integration with AIM, MSN, Yahoo, and ICQ, Voice Chat Rooms, Video Conferencing, Language Translation, File Transferring, Whiteboards, a Media Player, Free Web Hosting, Internet Access, and more, GCN has absolutely everything you could need in a Chat Program. The best part is, GCN is and always will be absolutely FREE!
Screenshot:
(Source: www.gcn.cx - Ping: 423 ms - Size: 122 Kb (
?
)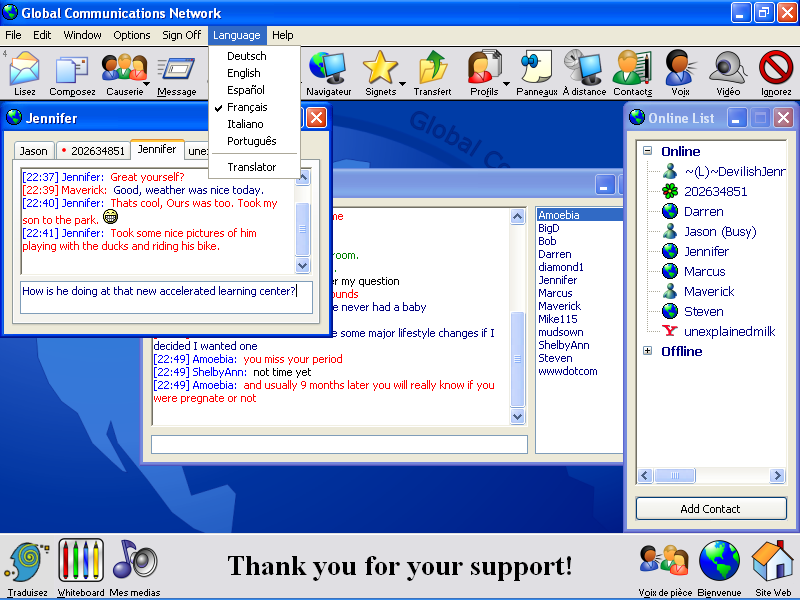 Keywords: global, communications, network, chat, video, voice, encryption, browser, media, player, whiteboard, jabber, message, boards, e-mail

| | | |
| --- | --- | --- |
| Rank | Title - Internet : Chat & Instant Messaging | Downloads |
| | Vypress Chat ($11) - Set up chat sessions among the members of your network. | 2052 |
| 2 | Active Messenger ($18) - An instant messaging system for enterprise, includes both Server and Client. | 2024 |
| 3 | Wireless IM Snif ($199) - IRC, EMail, SMB, MSN, AIM, ICQ sniffer. Includes ARP-spoofer | 1945 |
| 4 | WebChat - Communicator ($0) - The visual Chat and broser where the Chat Room are Internet site !!! | 1920 |
| 5 | QuickSender ($0) - Simple SMS, Email, ICQ sender with skin grapfic interface. | 1915 |