mobile4you 2.1.2.77
Quick Description: (Read All)
Checks,alerts,forwards email,reminders to email address,pager,cellular phone.

Download - Size: 3.99 MB
Source: mobile4you.4team.biz
File Ping Time (less is better): 217 ms

Category:
Internet
(Rank: 1,414 / 3,062):
E-Mail Tools
(Rank: 107 / 249)
Downloads:
852 This Week (Rank: 6,940 / 15,688) / 8210 Total (Rank: 4,854 / 15,688)
Developer:
4Team Corporation
Software Home Page:
http://mobile4you.4team.biz/
License Type:
Shareware ($19.95)
Language:
English
Most Recent File Validation
(
?
): Tue, February 5th, 2008 3:17 AM CST
OS: Win95,Win98,WinME,WinNT 3.x,WinNT 4.x,WinXP,Windows2000 - Install and Uninstall.




Full Description:
This shareware program automatically checks multiple e-mail accounts (POP3 or IMAP4), alerts with sound, delete spam, set up reminders and forwards compressed new e-mail messages and reminders to other e-mail address, pager, and cellular phone even when your e-mail program is not running and depending on your status (online, away, busy..). Running from the system tray, it launches your default e-mail client and alarms you when the Internet is down. The program runs in Windows 95-98, Windows NT-2000, and Windows XP and allows automatic updates. After trial expires, the program will work with limited functionality.
Screenshot:
(Source: mobile4you.4team.biz - Ping: 370 ms - Size: 49 Kb (
?
)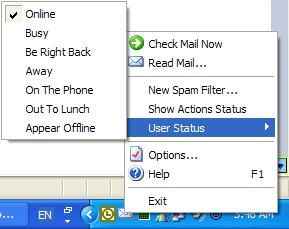 Keywords: checks, alerts, forwards, e-mail, pager, cellular, mobile, phone, spam, notify, reminder, junk

| | | |
| --- | --- | --- |
| Rank | Title - Internet : E-Mail Tools | Downloads |
| | MAPILab Toolbox ($24) - A set of 18 Microsoft Outlook 2000/XP/2003/2007 add-ins | 2060 |
| 2 | E.Box ($25.00) - Professional POP3/IMAP email accounts management tool | 2033 |
| 3 | 1st Subscription Manager ($0) - Parse your POP3 messages containing subscriptions and unsubscriptions. | 1950 |
| 4 | book-marks.exe ($0) - with this program you can email favorites direct from your browser | 1943 |
| 5 | Scrippy ($39.00) - Create beautiful e-mail and web pages with scrolling graphics, music and more! | 1938 |