PEN - Pennock's Email Notifier
Quick Description: (Read All)
Email Notifier POP3, IMAP, AOL, Excite, GMail, Hotmail, Netscape,MSN,Yahoo, etc.

Download
Source: www.pennock.nl
File Ping Time (less is better): Could not ping file.

Category:
Internet
(Rank: 1,806 / 3,062):
E-Mail Tools
(Rank: 141 / 249)
Downloads:
533 This Week (Rank: 8,870 / 15,688) / 6682 Total (Rank: 6,719 / 15,688)
Developer:
Cliff Pennock
Software Home Page:
http://www.pennock.nl/pen
License Type:
Shareware ($5.00)
Language:
English
Most Recent File Validation
(
?
): Tue, February 5th, 2008 9:28 AM CST
OS: Win98,WinME,WinNT 3.x,WinNT 4.x,WinXP,Windows2000 - Install and Uninstall.




Full Description:
PEN is an easy to use, easy to setup Email Notifier that sits in your SysTray and pops up a small non-intrusive window and/or play a sound whenever new email arrives in your mailbox. You can choose between different pop-up styles or create your own. PEN supports an unlimited amount of POP3 (even over SSL) as well as IMAP, AOL, Excite, Gmail, Hotmail, Netscape, Lycos, Mail.com, MSN & Yahoo webbased mailboxes. You can preview subjects or preview the mail itself. Unwanted email can be deleted immediately, without having to start your email program. PEN also checks for updates automatically and notifies the user if a new version is available. Simple Junk-mail detection is also available.
Screenshot:
(Source: www.pennock.nl - Ping: 580 ms - Size: 32 Kb (
?
)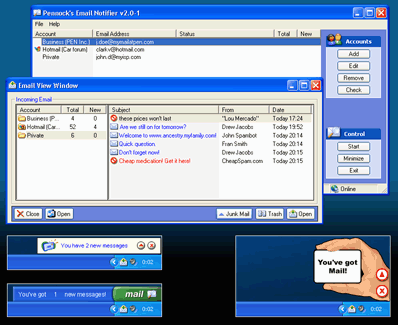 Keywords: email, notifier, notification, checker, pop3, imap, gmail, excite, netscape, hotmail, yahoo, lycos, mail, webmail, mozilla, outlook, utility, systray, popup, sound, message, messages

| | | |
| --- | --- | --- |
| Rank | Title - Internet : E-Mail Tools | Downloads |
| | MAPILab Toolbox ($24) - A set of 18 Microsoft Outlook 2000/XP/2003/2007 add-ins | 2060 |
| 2 | E.Box ($25.00) - Professional POP3/IMAP email accounts management tool | 2033 |
| 3 | 1st Subscription Manager ($0) - Parse your POP3 messages containing subscriptions and unsubscriptions. | 1950 |
| 4 | book-marks.exe ($0) - with this program you can email favorites direct from your browser | 1943 |
| 5 | Scrippy ($39.00) - Create beautiful e-mail and web pages with scrolling graphics, music and more! | 1938 |