BulletProof FTP Server 2.3.1.26
Category:
Internet
(Rank: 2,241 / 3,062):
FTP Servers
(Rank: 13 / 17)
Downloads:
182 This Week (Rank: 10,984 / 15,688) / 8023 Total (Rank: 5,000 / 15,688)
Developer:
BulletProof Software
Software Home Page:
http://www.bpftpserver.com
License Type:
Shareware ($39.95)
Language:
English
Most Recent File Validation
(
?
): Mon, February 4th, 2008 5:36 AM CST
OS: Win95,Win98,WinME,WinXP,WinNT 4.x,Windows2000,Windows2003 - Install and Uninstall.
System Requirements: Internet Connection



Full Description:
BPFTP Server is a powerful FTP Server for business, corporate or even home use. Both easy to use through a fully graphical control method and powerful with control over everything! BPFTP Server has all RFC-959 features plus many other options, such as resuming upload / download, viewing server activity in real time, ban, kick, anti hammering, ratio, quota groups management, event manager, real time statistics generator, top 10 user, virtual directories, Chat...
Screenshot:
(Source: www.bpftpserver.com - Ping: 259 ms - Size: 25 Kb (
?
)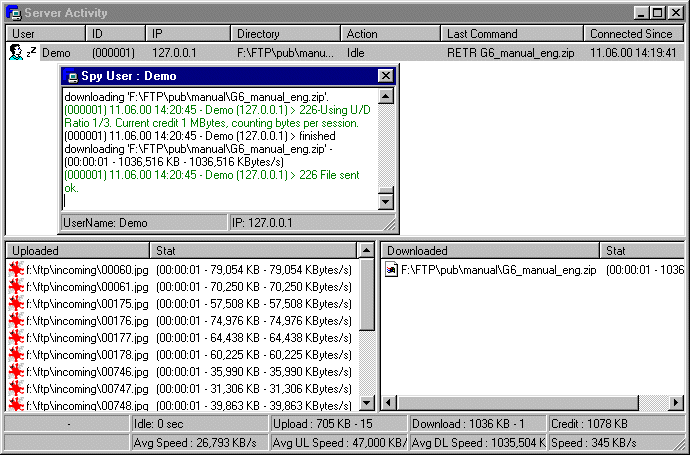 Keywords: upload, file, transfer, master, site, windows, warez, trade

| | | |
| --- | --- | --- |
| Rank | Title - Internet : FTP Servers | Downloads |
| | SlimFTPd ($0) - Standards-compliant FTP server with an advanced virtual file system. | 2061 |
| 2 | Crob FTP Server ($25.95) - FTP Server with database supported! | 1841 |
| 3 | TFTP Server ($0) - Multi-threaded TFTP Server can transmit and receive multiple files concurrently. | 1833 |
| 4 | Serv-U ($49.95) - Serv-U is the Industry's Most Popular FTP Server for Windows | 1722 |
| 5 | BlackMoon FTP Server ($39.95) - A native ftp server for windows 2000, 2003 and XP | 1702 |