Image Co-Tracker 2.0
Category:
Internet
(Rank: 2,149 / 3,062):
Download Managers
(Rank: 76 / 105)
Downloads:
261 This Week (Rank: 10,478 / 15,688) / 7483 Total (Rank: 5,648 / 15,688)
Developer:
Cogitum LC
Software Home Page:
http://www.cogitum.com/co-tracker
License Type:
Freeware ($0.00)
Language:
English
Most Recent File Validation
(
?
): Mon, February 4th, 2008 8:35 PM CST
OS: Win95,Win98,WinNT 4.x,Windows2000 - Install and Uninstall.
System Requirements: Microsoft Internet Explorer 5.0 or higher



Full Description:
A unique tool for creating and managing collections of images from the Internet. It automatically captures the image itself, its Internet location, Internet address where it refers, and the date of capturing. You can also assign comments and category to images, organize them, send collections by e-mail, export collections to HTML, transfer to other computers, search the collections, sort, print, and more. Use it to make the best choice while shopping, buying real estate, to manage image galleries, and to store banner ads,pictures, or favorite comics.
Screenshot:
(Source: www.cogitum.com - Ping: 304 ms - Size: 6 Kb (
?
)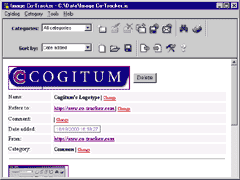 Keywords: image, co-tracker, tracker, database, collection, organizer, graphics, grab, browser, plug-in

| | | |
| --- | --- | --- |
| Rank | Title - Internet : Download Managers | Downloads |
| | Web2Map ($20) - Internet Recherche Manager with offlinereader, fulltextsearch, archiving,... | 2002 |
| 2 | Pageload ($19.50) - Pageload is a web copy and web security utility | 1941 |
| 3 | RafaBot ($49) - Bulk website downloader. Download website from a starting URL, search results. | 1933 |
| 4 | HTTP Weazel ($20) - Tool for ripping whole websites including all accompanying objects | 1894 |
| 5 | InstantGet ($24.95) - InstantGet is a powerful and efficient download manager and accelerator. | 1806 |